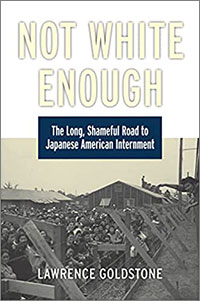 Here's my newest, published in May 2023.
Not White Enough is a comprehensive examination of a century of bigotry against Chinese and Japanese Americans that culminated in the infamous Supreme Court decision Korematsu v. United States: the landmark ruling that upheld the illegal imprisonment of more than 100,000 innocent men, women, and children who were falsely accused of endangering national security during World War II. This book is the first to trace the full arc of prejudice against Asian Americans that made internment inevitable and serves as a legal and political history of anti-Asian racism, beginning with the California gold rush and ending with the infamous Korematsu decision.
Not White Enough demonstrates how the lines between law and politics blurred for decades to enable a two-tiered system of justice where constitutional guarantees of equality under law were no longer upheld for all people. Goldstone examines each of the key Supreme Court decisions—including Wong Kim Ark, Ozawa, and Thind—as not simply jurisprudence but as expressions of political will. He chronicles the political history of racism that made Japanese internment almost inevitable, highlighting the key roles San Francisco mayors James D. Phelan and Eugene Schmitz, political boss Abe Ruef, California attorney general Ulysses Webb, and future Chief Justice Earl Warren played in instigating some of the most egregious anti-Asian legislation, all for political convenience and gain. Goldstone also illustrates Chinese and Japanese immigrants' courage and determination to carve out a place for themselves in a country that did everything it could to reject them.
Already got some nice comments:
"Written with flair and a sense of drama, Not White Enough is a very good, attention-grabbing read. Goldstone locates anti-Japanese sentiment in the United States during the first half of the twentieth century within the broader context of Asian exclusion and weaves a cautionary tale using recent events as reminders that issues of racial animus in immigration are not simply relics of the past. Ranging from local politics to international events, from the Boodle Boys to baseball diplomacy, from alien land laws to secret information-gathering on the loyalty of West Coast Nisei and Issei, and from Earl Warren's relationship with the Sons of the Golden West to key Supreme Court cases such as Korematsu, Not White Enough offers something for every reader."
—Carol Nackenoff, Richter Professor Emerita of Political Science at Swarthmore College and coauthor of American by Birth: Wong Kim Ark and the Battle for Citizenship
"While Korematsu v. United States remains a shameful monument of American racism in constitutional law, this book tells the story of how the anti-Japanese animus that produced internment during World War II developed from nearly a century of anti-Asian mobilization. This exclusionary movement, directed first at Chinese immigrants but ultimately extending to US citizens of Asian ancestry, was carried out by white residents in the West, government officials, and federal court judges, including members of the Supreme Court. Alongside this story, the book provides a compelling narrative of how Japanese immigrants persisted, finding inspiration in American ideals of justice, equality, and patriotism. A timely and critical historical contribution!"
—Julie Novkov, professor of political science and women's, gender, and sexuality studies, University at Albany, SUNY
"Not White Enough is an excellent analysis of the raw, unalloyed history of racial discrimination of Japanese and other Asian immigrants. It is also a vivid narrative of the paradox of democracy: if America is a democracy, then freedom of speech is a sacrosanct principle. When, as Goldstone examines so acutely, immigration policy is an issue, free speech must allow full and free civil discourse leading to passage of needed legislation. Democracy is threatened, ironically, by its primary value: freedom of speech and the use of social media to convey speech. Can defenders of the value of truth in policy discussions counter fake news persons? Goldstone's book shows that this battle still rages on and there is no pacific settlement of the dilemma."
—Howard Ball, professor emeritus of political science, University of Vermont, and author of several books, including Justice in Mississippi: The Murder Trial of Edgar Ray Killen; Murder in Mississippi: United States v. Price and the Struggle for Civil Rights; and The Bakke Case: Race, Education, and Affirmative Action