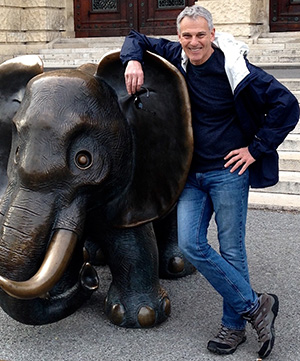 I was born in Brooklyn. I'm not going to say in what year, but as a hint, we had a party line on our telephone, milk was delivered by a horse-drawn wagon early each morning, one of my favorite things to do as a kid was ride the electric trolley, and the beloved Dodgers always lost the big one. (Well, one of those has survived history.)
We were one of the only Jewish families in a Mafia neighborhood but since my grandfather always let Family members in need hide out in the back room of his luncheonette, we were valued members of the community. I had one of those idyllic city childhoods—stickball in the streets, riding my 400 pound Schwinn two-wheeler down the steep hill abutting the cemetery, playing cops and robbers with the children of real cops and robbers. Eventually we moved to a better neighborhood and life got significantly duller.
I had an uneven school career, even before I knew what "anarchist" meant. When I was eight, my mother was called in to see the principal, yet again. He pulled me out of class, stood me in the hall for maximum intimidation value, then said to my mom, "Your son has no respect for authority." Mom asked, "What about that, Larry?" My reply—and this is totally true—was, "He doesn't mean respect. He means courtesy. You can demand courtesy but you have to earn respect." Those sentiments have not changed, which is why, I suppose, I have an extremely critical eye for history, especially American history, that deifies the winners. I don't think we make ourselves stronger as a nation by pretending our founders were somehow not as human in their flaws as the rest of us.
I started college at sixteen and by eighteen, I was out. I worked for a bit, then went back to school locally at Queens College. I was lucky enough to encounter an extraordinary, totally superb poli sci professor named Sol Resnik. I traipsed along behind him, both academically and personally, and eventually got a PhD from the New School for Social Research, writing my dissertation on the underemphasized role of slave economics at the Constitutional Convention of 1787. Thirty years later, I turned it into a book, Dark Bargain.
I couldn't get a teaching job—it was the height of Vietnam avoidance and everyone was in graduate school. I bounced around as much professionally as in school—at various times, I've been a lecturer, senior member of a Wall Street trading firm, taxi driver, actor, quiz show contestant, and policy analyst at the Hudson Institute. I started writing in my forties after watching Nancy do it and being overwhelmed with jealousy. My first real gig was a $10 op-ed column for a local weekly in the Berkshires. They let me write whatever I wanted and it was invaluable as both an outlet and learning experience. From there, I knew I simply could not do anything else.
By now, I've written well over a dozen books of both fiction and non-fiction, six of which were co-authored with Nancy, who saved my life countless times and in countless ways. I've had articles, reviews, and opinion pieces that have appeared in, among other publications, the Atlantic, Salon, Boston Globe, Los Angeles Times, Wall Street Journal, Chicago Tribune, Miami Herald, Hartford Courant, New Republic, Tablet, Bloomberg, and Berkshire Eagle. I've also written for a number of magazines that have gone bust, although I deny any cause and effect.