I've written both fiction and non-fiction with a wide range in each.  Rather than concentrate on a specific period, I'm drawn to moments in history, be they in medicine, science, or politics, when the course of the nation or sometimes even the world was altered by an exceptional person or a pivotal decision.
Several of my books focus on dramatic issues involving the United States Constitution. These, like all my non-fiction, are written in a narrative style for a general audience. I believe my job as a historian is try to de-mystify the complex so that anyone interested in the subject can actually learn something about it.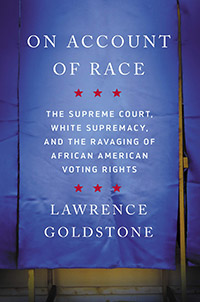 On Account of Race: The Supreme Court, White Supremacy, and the Ravaging of African American Voting Rights
On Account of Race was published in May 2020. With voter suppression perhaps the most significant threat to American democracy, I cannot think of a more important topic to have written about. The book examines case-based evidence to reveal the court's longstanding support for white supremacy (often under the guise of "states rights") and how that bias has allowed the court to solidify its position as arguably the most powerful branch of the federal government.
Beginning in 1876, the Court systematically dismantled both the equal protection guarantees of the Fourteenth Amendment, at least for African-Americans, and what seemed to be the guarantee of the right to vote in the Fifteenth. And so, of the more than 500,000 African-Americans who had registered to vote across the South, the vast majority former slaves, by 1906, less than ten percent remained. Many of those were terrified to go the polls, lest they be beaten, murdered, or have their homes burned to the ground. None of this was done in the shadows―those determined to wrest the vote from black Americans could not have been more boastful in either intent or execution. But the Court chose to ignore the obvious and wrote decisions at odds with the Constitution, preferring to instead reinforce the racial stereotypes of the day.
On Account Of Race tells the story of an American tragedy, the only occasion in United States history in which a group of citizens who had been granted the right to vote then had it stripped away. Even more unjust was that this theft of voting rights was done with full approval, even the sponsorship, of the United States Supreme Court.
Winner of the 2021 Lillian Smith Book Award
"A persuasive case that history matters and that the past is prologue."
—Kirkus Reviews
"This well-sourced and accessible account makes a convincing case that America's highest court played a key role in stalling black progress for a century."
—Publishers Weekly
"A sobering but essential and timely history."
—Booklist (starred review)
"Goldstone is a first-rate writer, and this book's readability makes it ideal for classroom use, though all readers will learn from the cases covered here."
—Library Journal
Days of Infamy: How a Century of Bigotry Led to Japanese American Internment
Winner of the 2023 Carter G. Woodson Book Award
Here is a wonderful review by a teacher:
In his book, Days of Infamy, Lawrence Goldstone dives deep into the roots of the internment of Japanese Americans during World War II and provides readers with a compelling look at the myriad ways that Asian Americans in general—and Japanese Americans in particular—have suffered prejudice in the United States since the 1800s. Goldstone conveys stories in a manner that is factual, gripping, and heart-wrenching. He is a thorough researcher and provides readers with an extensive bibliography and many source notes. Photographs and other primary source documents support the text and provide the reader with an additional level of understanding about historical events.
As we continue to battle prejudices within our country, examining historical instances of bigotry may help older students heighten their understanding of the roots of this hatred and the way it has been woven (often unacknowledged) into the fabric of our past. This book is difficult to put down.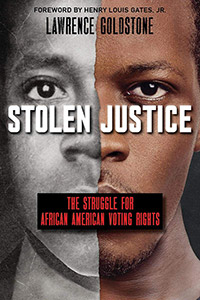 Stolen Justice: The Struggle for African American Voting Rights
In this vivid portrait of the systematic suppression of the African American vote for young adults, critically acclaimed author Lawrence Goldstone traces the injustices of the post-Reconstruction era through the eyes of incredible individuals, both heroic and barbaric, and examines the legal cases that made the Supreme Court a partner of white supremacists in the rise of Jim Crow. Though this is a story of America's past, Goldstone brilliantly draws direct links to today's creeping threats to suffrage in this important and, alas, timely book.
"Goldstone resurrects decades-old court cases, bringing new life to the past by clearly connecting yesterday to today and invoking current questions about which Americans have participatory access to democracy. Short chapters, ample photographs and illustrations, judicious use of illustrative quotations, and straightforward prose make this an engaging read. A critical work."
—Kirkus
"In clear, vivid language, this timely volume recounts the layered history of African-American voting rights, from the 1787 Constitutional Convention to Georgia's 2018 block against voter registration for 53,000 residents… In addition to revealing looks at the roles played by notable individuals such as Booker T. Washington and Oliver Wendell Holmes Jr. in the struggle against disenfranchisement, Goldstone further enriches the narrative with nuanced portraits of many lesser-known figures… A strong, illuminating addition to the study of American history."
—Publishers Weekly
"Goldstone has provided new and compelling insight into the societal impact of the U.S. Supreme Court's decisions related to voting rights. A must-buy for all high school collections."
—School Library Journal (starred review)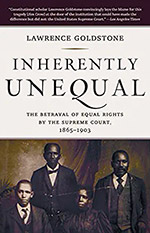 Inherently Unequal: The Betrayal of Equal Rights by The Supreme Court, 1865-1903
In the years following the Civil War, a series of extraordinary laws remade America's social landscape.  The 13th Amendment abolished slavery; the 14th conferred citizenship and equal protection under the law to all Americans, white or black; and the 15th gave black American males the right to vote.  In 1875, the most comprehensive civil rights legislation in the nation's history granted all Americans, regardless of color, "the full and equal enjoyment" of public accommodations, conveyances, and places of amusement.  Yet just eight years later, the Supreme Court, by an 8-1 vote, overturned the Civil Rights Act as unconstitutional and, in the process, disemboweled the equal protection provisions of the 14th Amendment.  Using court records and accounts of the period, Lawrence Goldstone chronicles how "by the dawn of the twentieth century the U.S. had become the nation of Jim Crow laws, quasi-slavery, and precisely the same two-tiered system of justice that had existed in the slave era."
"Convincingly lays the blame for this tragedy of Jim Crow at the door of the institution that could have made the difference but did not: the United States Supreme Court."
—Los Angeles Times
"A furious indictment of the Supreme Court as an accessory to the anti-democratic machinations of Gilded Age elites."
—Kirkus Reviews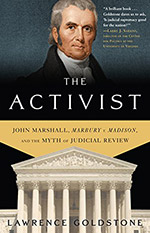 The Activist:  John Marshall, Marbury V. Madison, and the Myth of Judicial Review
Among the many momentous decisions rendered by the Supreme Court, none has had a greater impact than that passed down in 1803 by Chief Justice John Marshall in the case of Marbury v. Madison.  While the ruling itself was innocuous—denying the plea of a minor functionary named William Marbury on constitutionally technical grounds—its implications were enormous.  For Marshall had, in essence, claimed for the Supreme Court the right to determine what the Constitution and our laws under it really mean, known formally as the principle of "judicial review."  Yet, as Lawrence Goldstone shows in his compelling narrative, that right is nowhere expressed in the Constitution and was not even considered by its framers, who would never have granted such power in a checks-and-balances system to unelected officials serving for life.

"This sprightly study… has relevance for today, when, as Goldstone claims, 'originalist' judges, in the name of adhering strictly to the words of the Constitution, use judicial review, which is not in the Constitution, to inconsistently strike down laws."
—Publishers Weekly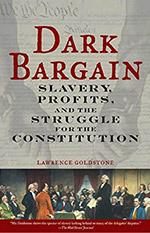 Dark Bargain: Slavery, Profits, and the Struggle for the Constitution 
Goldstone chronicles the forging of the Constitution through the prism of the crucial compromises made by men consumed with the needs of the slave economy.  As the daily debates and backroom conferences in inns and taverns stretched through July and August of that hot summer—and as the philosophical leadership of James Madison waned—Goldstone clearly reveals how tenuous the document was, and how an agreement between unlikely collaborators— John Rutledge of South Carolina, and Roger Sherman and Oliver Ellsworth of Connecticut—got the delegates past their most difficult point.  Dark Bargain recounts an event as dramatic and compelling as any in our nation's history.
"Puts slavery near the heart of the making of the Constitution, where it belongs.  Goldstone's narrative is lively and carefully researched, and we learn more than we knew about James Madison and the other founding fathers."
—Howard Zinn, author of A People's History of the United States
"A well-argued contribution to our evolving understanding of the role of slavery in our nation's origins."
—Booklist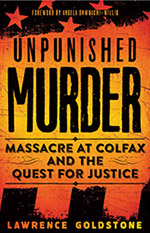 Unpunished Murder: Massacre at Colfax and the Search for Justice
From the publisher:
"On Easter Sunday of 1873, just eight years after the Civil War ended, a band of white supremacists marched into Grant Parish, Louisiana, and massacred over one hundred unarmed African Americans. The court case that followed reached the highest court in the land. Yet, following one of the most ghastly incidents of mass murder in American history, not one person was convicted.
The opinion issued by the Supreme Court in US v. Cruikshank set in motion a process that would help create a society in which black Americans were oppressed and denied basic human rights—legally, according to the courts. These injustices paved the way for Jim Crow and would last for the next hundred years. Many continue to exist to this day.
In this compelling and thoroughly researched volume for young readers, Lawrence Goldstone traces the evolution of the law and the fascinating characters involved in the story of how the Supreme Court helped institutionalize racism in the American justice system."
"This information-packed book discusses the origins and repercussions of the Colfax Massacre… a gripping story and a well-informed perspective on American history. Spotlighting an event seldom discussed in books for young people, Goldstone provides a complex, useful historical context for understanding issues surrounding race and justice."
—Booklist (Starred Review)
"Goldstone traces several important ideas through the early history of the United States: the growth in influence of the Supreme Court after John Marshall introduced the concept of judicial review; the uneasy balance of power between state and federal governments; and the racism written into the Constitution as the 'Three-Fifths Compromise' and subsequently espoused by America's leading politicians and judges… in large part, the story of how racism evolves, persisting in laws and politics despite major social advances."
—Jonathan Hunt, The Horn Book (Starred Review)
I've written four books on innovation in the late 19th, early 20th centuries, a remarkable period of enormous technological change that very much mirrors our own.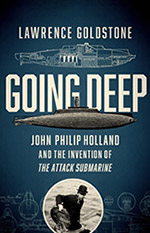 Going Deep: John Philip Holland and the Invention of the Attack Submarine, published in June 2017, is the third in my series about innovators of the late nineteenth/early twentieth centuries.  Holland, like Wilbur Wright and Henry Ford, the protagonists of the earlier books, is a fascinating character, a man who toiled for three decades to turn his vision to reality only to see his business snatched away.  What is so interesting about these three men is that each represents a different face of an innovation cycle eerily similar to the one in which we are now immersed.  And anyone who thinks the current cycle is more robust should consider that the one in which Holland participated gave us the automobile, the airplane, the submarine, the structure of the atom (including the discovery of the electron by J. J. Thomson, which is the basis of just about everything we do these days), wireless communication, Einstein's relativity, and Freud's theories of the unconscious mind.
Here are the publisher's notes for Going Deep:
From Twenty Thousand Leagues Under the Sea to The Hunt for Red October, readers the world over have demonstrated an enduring fascination with travel under the sea. Yet the riveting story behind the invention of the submarine—an epic saga of genius, persistence, ruthlessness, and deceit—is almost completely unknown.
Like Henry Ford and the Wright brothers, John Philip Holland was completely self-taught, a brilliant man raised in humble circumstances, earning his living as a schoolteacher and choirmaster. But all the while he was obsessed with creating a machine that could successfully cruise beneath the waves. His struggle to unlock the mystery behind controlled undersea navigation would take three decades, during which he endured skepticism, disappointment, and betrayal. But his indestructible belief in himself and his ideas led him to finally succeed where so many others had failed.
Going Deep is a vivid chronicle of the fierce battles not only under the water, but also in the back rooms of Wall Street and the committee rooms of Congress. A rousing adventure—surrounded by an atmosphere of corruption and greed—at its heart this a story of bravery, passion, and the unbreakable determination to succeed against long odds.
Got terrific reviews in Publishers Weekly, Kirkus, Booklist, Wall Street Journal, and some amazing quotes from naval experts and submarine officers:
"Going Deep is a detailed and thoroughly absorbing history of early submarine development.  Goldstone reveals the rivalry between two visionaries, John Holland and Simon Lake, and the surrounding intrigue in the competition to build submarines for the US Navy.  A fascinating read." Paul Varnadore, former United States Submarine Commanding Officer.
"A readable, compelling, and intriguing story of the development of the U.S. submarine industry at the turn of the 20th century."  Joel I. Holwitt, Execute Against Japan: The U.S. Decision to Conduct Unrestricted Submarine Warfare.
"With humor and grace, Lawrence Goldstone describes how entrepreneurs with new ideas (the submarine, in this case) struggled for recognition and acceptance among purblind government bureaucrats, ambitious politicians, and the conservative institution of the Navy. This is a well-crafted, highly-readable account of the complexities, compromises, and nuanced relationships between the individuals, ideas, and institutions necessary for innovators to succeed."  Justin L. C. Eldridge, Naval Historian.
"We think of our times, as an unrivaled era of innovation but the Gilded Age at the turn the 20th Century was its equal. Lawrence Goldstone writes in brilliant fashion of this period and the cast of geniuses, tycoons, politicians and scoundrels that made it vibrate. Going Deep tells the story of an incredible invention, the attack submarine, and the humble genius, John Philip Holland, who battled for decades to convince a skeptical world (and the Navy's Old Guard) of the value of his creation. As told by Goldstone, Holland's life soars with singular achievement and ends, as genius often does, in near obscurity. Goldstone has brought John Philip Holland back to the vital center of his times. An insightful, important and enthralling book." Mark Obenhaus, The Age of Aerospace.
"Going Deep not only narrates the development of the first submarines in exacting detail; it also sheds light on the murky processes of 19th and early 20th century naval acquisitions.  The uninitiated often think that new weapons systems just sort of 'appear' in the fleet as they're invented.  Lawrence Goldstone does us all a favor by reminding us that this is never the case.  Going Deep is a good read, and a welcome addition to the literature on a weapons system that fundamentally changed naval warfare."  James C. Rentfrow, Home Squadron: The US Navy on the North Atlantic Station.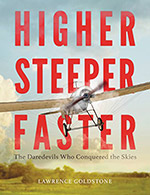 Higher, Steeper, Faster: The Daredevils Who Conquered the Skies, a book for middle schoolers, is the story of early years of flight, told through the incredible exploits of exhibition flyers who took incredible risks—and often died—to advance both the science of flight and their own careers.  There were no test pilots in those days, so these flyers pushed the boundaries of their own skill and capabilities of the aircraft without any sense of whether either would hold up under the stress.  It was because of these brave and reckless men and women that aviation—like airplanes they flew—hurtled forward at breakneck speed.
Publisher's notes:
Aviator Lincoln Beachey broke countless records: he looped-the-loop, flew upside down and in corkscrews, and was the first to pull his aircraft out of what was a typically fatal tailspin. As Beachey and other aviators took to the skies in death-defying acts in the early twentieth century, these innovative daredevils not only wowed crowds, but also redefined the frontiers of powered flight.
Higher, Steeper, Faster takes readers inside the world of the brave men and women who popularized flying through their deadly stunts and paved the way for modern aviation. With heart-stopping accounts of the action-packed race to conquer the skies, plus photographs and fascinating archival documents, this book will exhilarate readers as they fly through the pages.
I've got three trade reviews so far…all starred.  Yippee.
First is a starred Kirkus—not easy to do:
The author's passion for his subject infuses this richly detailed history of the daredevil years in flying. The introduction opens in 1915 with 50,000 spectators at San Francisco's Panama-Pacific International Exposition, watching Lincoln Beachey, "the greatest, most celebrated aviator in the world," attempt his famous Dip of Death maneuver. The narrative then goes back to fill in history about gliders and balloons before moving to its focus, the years from Kitty Hawk in 1903 to the end of this era of exhibition flying in 1915. Set mainly in the United States, the graceful account highlights a steady stream of breathtaking flights, mostly by white men but also a few white women. Fliers continuously broke altitude, speed, and distance records in exhibition contests that took the place of test flights. To make performances more exciting, they eventually added dangerous stunts like spins and corkscrews. Many pilots became celebrities, attracting huge crowds, inspiring newspaper headlines, and competing for cash prizes. Hundreds died while performing, which only made exhibitions more popular. Numerous black-and-white photographs show fliers, feats, and progress in airplane design, while diagrams help explain the physics of flying. Short sidebars add pertinent facts and anecdotes. For those who love history, aviation, or stories of great daring, this is pure pleasure.
Next star is Publishers Weekly, which also made it a featured book.
In prose as riveting as the developments it investigates, Goldstone (Drive!) covers the history of early aviation up to 1915 in his first book for young readers. After grabbing attention with the crowd-thrilling stunts of Lincoln Beachey, "the greatest aviator America has ever seen," Goldstone provides background on ballooning, parachutes, and gas-powered airships before launching into the main tale: the daredevils of flight's first decade. As he chronicles limit-testing feats that astounded audiences, he points out that airplanes were not tested before they were flown in exhibitions and how radically airplanes changed in those early years: "By 1915, not one single feature of the original Wright Flyer [made famous by Orville Wright in his famous 1903 flight] remained in use." Goldstone deftly combines captivating descriptions of the personalities—male and female—with discussion of the many improvements and ever-present hazards of early flying. Though questions about who actually built and repaired these fragile machines and how pilots were licensed aren't addressed, Goldstone's book enthralls.
And…School Library Connection:
Even though the Wright Brothers are a household name, a number of other daredevils successfully conquered the skies. "Birdmen" such as Lincoln Beachey, Glenn Curtiss, Alberto Santos-Dumont, and women, such as Matilde Moisant and Harriet Quimby, risked their lives to forge a path for the modern aircraft and aerospace industries. Readers will breathlessly follow the race to conquer the sky as these early aviators perform daring stunts and break achievement records that seem unbelievable today. Written in a conversational style for young readers by the author of more than a dozen highly acclaimed titles for adults, the book is also richly illustrated with historical photos, and includes intriguing factoids.
Cool, huh?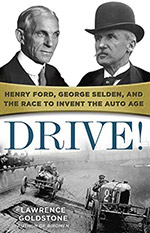 Drive! Henry Ford, George Selden, and the Race to Invent the Auto Age
Some terrific blurbs.
"Business history as you have never read before, Lawrence Goldstone tells the important but now forgotten legal fight over the patent for the automobile.  With more plot twists and turns than a murder mystery and a cast of well-known industrial titans, Drive! takes the reader down the road to the dawning age of the automobile when Henry Ford's dream almost turned into a nightmare."
—James McGrath Morris, author Pulitzer: A Life in Politics, Print, and Power
"Drive! is an exquisite treasure.  Titanic court battles, personal feuds among robber barons, hair-raising, death defying early automobile races, and a slice of history, beautifully researched and written, that shaped the country in the early twentieth century, there is something in this book for all lovers of an epic, transformative struggle."
—Dale Oesterle, Reese Chair, Moritz College of Law, Ohio State University
"In suitably fast-paced prose, Goldstone tells the enthralling story of the fraught early days of the 'Horseless Age.'  The cast in the high-stakes battle includes brilliant engineers, Gilded Age tycoons, and reckless daredevils both on the track and in the boardroom—a heady mix of motors, money, and testosterone.  Silicon Valley's billionaires have nothing on these guys for either ingenuity or ruthlessness."
—Ross King, author of Brunelleschi's Dome
"Drive! cruises backrooms, boardrooms and courtrooms as pioneer racers compete for their place in motoring history.  Hang on!"
—Rick Hughey, International Motor Racing Research Center at Watkins Glen
"Lawrence Goldstone pulls back the curtain on a world long hidden from view, of the unsung heroes and forgotten men behind the most consequential invention of the 20th century.  He synthesizes auto history and extensive scholarship to create a refreshing, original account, a bold, powerfully argued retelling of the history of the automobile.  Goldstone takes Henry Ford out of familiar context and presents him as someone entirely new, an even more curious and riveting man.  A lucid, intelligent page-turner, Drive! will enthrall and enlighten you."
—Elizabeth MacDonald, senior stocks editor, FOX Business
"Utterly compelling.  Filled with fascinating stories and larger-than-life characters, Drive! is a joy ride.  I'll never get behind the wheel of my car again without thinking about Drive!"
—Howard Blum, New York Times bestselling author of Dark Invasion and American Lightning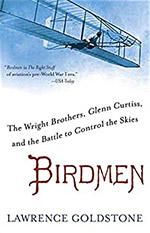 Birdmen: The Wright Brothers, Glenn Curtiss, and the Battle to Control the Skies
The feud between this nation's great air pioneers, the Wright Brothers and Glenn Curtiss, was a collision of unyielding and profoundly American personalities. On one side: a pair of tenacious siblings who together had solved the centuries-old riddle of powered, heavier-than-air flight. On the other: an audacious motorcycle racer whose innovative aircraft became synonymous in the public mind with death-defying stunts. For more than a decade, they battled each other in court, at air shows, and in the newspapers. At issue was more than the profits from a patent, but control of the means of innovation in a new age of industrial change. The outcome of this contest of wills would shape the course of aviation history—and take a fearsome toll on the men involved.
Birdmen sets the engrossing story of the Wrights' war on Curtiss against the thrilling backdrop of the early years of manned flight, and is rich with period detail and larger-than-life personalities: Thomas Scott Baldwin, or "Cap't Tom" as he styled himself, who invented the parachute and almost convinced the world that balloons were the future of aviation; John Moisant, the dapper daredevil who took to the skies after three failed attempts to overthrow the government of El Salvador, then quickly emerged as a celebrity flyer; and Harriet Quimby, the statuesque silent film beauty who became the first woman to fly across the English Channel. And then there is Lincoln Beachey, perhaps the greatest aviator who ever lived, who dazzled crowds with an array of trademark twists and dives—and best embodied the romance with death that fueled so many of aviation's earliest heroes.
A dramatic story of unimaginable bravery in the air and brutal competition on the ground, Birdmen is at once a thrill ride through flight's wild early years and a surprising look at the personal clash that fueled America's race to the skies.
"A meticulously researched account of the first few hectic, tangled years of aviation and the curious characters who pursued it… a worthy companion to Richard Holmes's marvelous history of ballooning, Falling Upwards."
—Time (One of the Best Books of the Year…So Far)
"The daredevil scientists and engineers who forged the field of aeronautics spring vividly to life in Lawrence Goldstone's history."
—Nature
"The history of the development of an integral part of the modern world and a fascinating portrayal of how a group of men and women achieved a dream that had captivated humanity for centuries."
—The Christian Science Monitor
"[A] vivid story of invention, vendettas, derring-do, media hype and patent fights [with] modern resonance."
—Financial Times
"Goldstone's Birdmen is The Right Stuff of aviation's pre-World War I era."
—USA Today
"Goldstone delivers a riveting narrative…a well-written, thoroughly researched work that is sure to compel readers interested in history, aviation and invention.  Raises questions of enduring importance regarding innovation and the indefinite exertion of control over ideas that go public."
—Publishers Weekly (starred review)
"A superbly crafted retelling of a story familiar to aviation buffs, here greatly strengthened by fresh perspectives, rigorous analyses, comprehensible science, and a driving narrative."
—Library Journal(starred review)
"A powerful story that contrasts soaring hopes with the anchors of ego and courtroom."
—Kirkus Reviews
I've got seven works of fiction: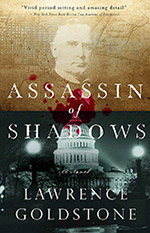 Assassin of Shadows
In June 2019, my newest historical thriller, about the very shady real-life circumstances surrounding the assassination of President William McKinley by Leon Czolgosz in September 1901, was released. I'm always on the lookout for an incident where the history can be absolutely accurate and still yield a plot that is both plausible and engrossing, and the McKinley assassination was irresistible because so many questions were never adequately answered. One of the reasons I'm drawn to fiction is that I get to explore some theories for which there is not sufficient evidence to do as straight history. The most fun thing about this book was that it actually could have happened this way.
But don't take my word for it. I've gotten some great trade reviews:
"An outstanding thriller. Goldstone combines an intriguing theory of the crime with a jaw-dropping ending. His best novel yet."
—Publishers Weekly (starred)
"Taking the 1901 assassination of President William McKinley in Buffalo as his starting point, Goldstone combines fact and fiction to weave a story of the plot behind the event. A masterfully conceived, suspenseful 'what if' story that will certainly draw fans of Max Allan Collins' similar series starring Nate Heller."
—Booklist
"Goldstone deftly mixes fact and fiction to bring the turn of the century alive as his detecting pair unearth a breathtaking, satisfying conspiracy."
—Kirkus Reviews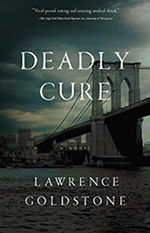 Deadly Cure
In 1899, in Brooklyn, New York, Dr. Noah Whitestone is called urgently to his wealthy neighbor's house to treat a five-year-old boy with a shocking set of symptoms. When the child dies suddenly later that night, Noah is accused by the boy's regular physician—the powerful and politically connected Dr. Arnold Frias—of prescribing a lethal dose of laudanum.
To prove his innocence, Noah must investigate the murder—for it must be murder—and confront the man whom he is convinced is the real killer. His investigation leads him to a reporter for a muckraking magazine and a beautiful radical editor who are convinced that a secret, experimental drug from Germany has caused the death of at least five local children, and possibly many more. By degrees, Noah is drawn into a dangerous world of drugs, criminals, and politics, which threatens not just his career but also his life.
"Set in New York City in 1899, this exceptional thriller exposes the underside of American medicine… Goldstone again blends fact and fiction seamlessly."
—Publishers Weekly (starred review)
"Lawrence Goldstone presents a chilling account of the deadly respiratory diseases (and even deadlier medical treatments) that are claiming the lives of Brooklyn children during the hard winter of 1899… not even New York's governor, Theodore Roosevelt, has the clout to rein in 'the vast web of corruption in our pharmaceutical industry' that has cost so many lives and introduced the world to some killer drugs."
—Marilyn Stasio, New York Times
Booklist wrote, "A fascinating perspective on the introduction and misuse of patent medicines, this puzzler makes a forceful statement against the kinds of drugs that are still a problem today. With strong female characters, twisted bad guys, and a suspenseful, fast-moving plot, this immensely readable historical mystery compares well with Anne Perry's A Sunless Sea (2012) and E.S. Thomson's Beloved Poison (2016)."
Library Journal said, "Goldstone follows his acclaimed debut historical mystery, The Anatomy of Deception, with another vibrant and distinctive forensic page-turner."
And I did a piece for Criminal Element on writing historical thrillers.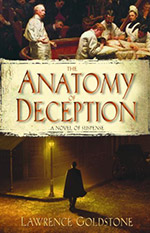 Anatomy of Deception
A New York Times notable mystery
The year is 1889.  In the morgue of a Philadelphia hospital, physicians uncover the corpse of a beautiful young woman.  What they see takes their breath away.  Within days, one doctor, Ephraim Carroll, strongly suspects that he knows the woman's identity—and the horrifying events that led to her death.
Dr. Carroll came to Philadelphia to study with a leading professor, the brilliant William Osler, believing that he would gain the power to save countless lives.  But Carroll and his mentor are at odds over what they glimpsed that morning in the hospital's Dead House. And when a second mysterious death is determined to have been a ruthless murder, Carroll can feel the darkness gathering around him-and he ignites an investigation of his own.  Soon he is moving between the realm of elite medicine, Philadelphia high society, and a teeming badlands of criminality and sexual depravity along the city's fetid waterfront.  With a wealthy, seductive woman clouding his vision, the controversial artist Thomas Eakins sowing scandal, and the secrets of the nation's powerful surgeons unraveling around him, Carroll is forced to confront an agonizing moral choice-between exposing a killer, undoing a wrong, and, quite possibly, protecting the future of medicine itself.
"You'll be gripped by this haunting and atmospheric thriller."
—Tess Gerritsen
"A clever and entertaining tale.. set in the surgical theaters and medical research halls of late-19th century Philadelphia and Baltimore."
—Los Angeles Times Book Review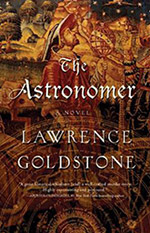 The Astronomer
1534, Paris.  A student at the Catholic Collège de Montaigu serving as a spy for the Inquisition is murdered by members of an extreme Lutheran sect.  His friend and fellow classmate Amaury de Faverges—the illegitimate son of the Duke of Savoy and an expert in astronomy and natural science—is recruited as his replacement and promised a decree of legitimacy if he can uncover the secret that threatens to overturn Christianity.  Working undercover, Amaury journeys across France to the alleged heart of the conspiracy.  The deeper he probes, the more Amaury is forced to confront his own religious doubts; and when he discovers a copy of Copernicus's shocking manuscript showing the sun at the center of the universe, he knows the path he must follow.  Replete with characters and events from history—from the iconoclastic Rabelais to the burning of heretics in Paris to preacher John Calvin and Copernicus himself—The Astronomer is a powerful novel of love and betrayal, and a thrilling portrait of what might well have happened at a hinge point in history when science and ancient religious belief collided.
"Will send shivers down readers' spines in its vivid depiction of the battle between science and the spirit."
—Library Journal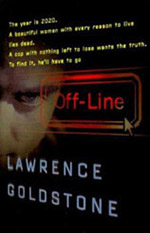 Off-Line
2020. Glynnis Rodman, brilliant and beautiful, a senior executive at MicroLink, one of the country's most powerful cyber companies, has been found dead in her apartment after an S&M encounter with a stranger.  Veteran senior investigator Phil Gagliardi Jr., forty-two, bored, and recently divorced, is called to the scene.  Computer analysis determines the cause of death to be cardiac arrest induced by an overdose of an illegal, orgasm-enhancing drug.  Records prove that the drug had been supplied by the partner.  The case seems to be open and shut, but Phil cannot get the image of the dead woman out of his mind.  Despite skepticism within the department and pressure from higher-ups, he decides to investigate on his own.  Phil soon learns that in the twenty-first century investigating a crime is not so easy.  In a society where ColorMatch selects the contents of a clothes closet, ArtTech chooses wall decor, and an AccuStove prepares dinner, criminal analysis has been entirely entrusted to microchips.  For the first time in years, Phil must solve a crime without help from machines, a skill that he has almost forgotten.
Well, I'd put a blurb from a good review here, but there weren't any.  Reaction was between lukewarm and excoriating.  Funny thing though—the book was written fifteen years ago when the Internet was formative and apps were a mispronunciation of stomach muscles, but much of what reviewers sneered at (or worse) has come… or is coming… to pass.

And then there's my first novel,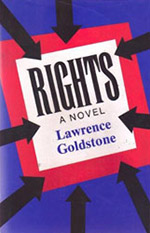 Rights
Winner of the 1992 New American Writing Award
"The murderous undertow of urban poverty, homelessness, racism, police brutality, political and media hucksterism, celebrity-seeking and self-advertisement, drug-dealing ganglords, a welfare system that demeans those it serves, a legal system blind to its own injustices, all come under satiric scrutiny in this first novel… undeniable readability."
—Library Journal
This is one I'd like to have back.  The publisher loved it so much that he didn't change a word… but, oh, did I need an editor.  This book has lots of passion and some very good bits—and themes I still think were dead on—but craft and I had yet to make an acquaintance.  Oh well, everyone has to start somewhere.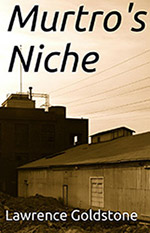 Murtro's Niche is only available electronically on Amazon. That's right—self-published. Funny thing about this novel. Everyone in the business thought it was quite good, but no one would put it out. Not commercial enough, whatever that means. I thought maybe I should put a vampire in it, but the only blood sucking is by the investment banker. All those comparisons on the bottom are accurate, however, and none of them were coined by me. Mostly, I thought it was an important subject and an entertaining read, so I'm vaulting into the new era and giving readers a chance to decide. And, for only $2.99, how big a risk are you taking?
So… from the book description:
A piercing look at the fates of ordinary people in a company town when the company pulls up stakes.
Gordie Murtro had always played by the rules. He got a job right out of high school, worked hard to improve himself, got married, had kids, and saved enough to finally buy a house. To him, the American dream was more the American bargain—live honorably and the system would grant you a secure and peaceful future. But a bargain must have two participants and in western Massachusetts in 1990, Beloit Industries, the town's largest employer, struck a bargain only with its stock price. When Beloit decides to outsource thousands of jobs to save on labor costs, Gordie is cut adrift. As he struggles to find work, any work, in a job market that seems to shrink by the day, Gordie is forced to confront not only unemployment, but also the destruction of the values on which he has based his entire life.
The impact of the cutbacks radiates far beyond the factory doors. Caught in the whirlpool are everyone from Gordie's wife and children, to a mayor elected to deal only with prosperity, to the investment banker who made millions on Beloit's move, to the warehouse retailer who comes to town to pick the bones of consumers who can no longer afford to patronize the shops they grew up in. As a once-pulsating, picture-book American city sinks into despair, its only hero is the mysterious thief who is burglarizing the wealthy second-home owners who populate the surrounding villages. When the victim is a glamorous actress, Gordie's son is accused and must prove his innocence in a trial in which the very soul of the city is on trial.
Written with compassion and biting wit, Murtro's Niche has been compared to the work of Richard Russo, Russell Banks, and Tawni O'Dell.

I have also written a number of books with my wife, before we decided to save what was left of the dishes.  (She used that line on her website, but it was stolen from me, one of the reasons we don't write together anymore.)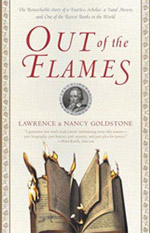 Out of the Flames:  The Remarkable Story of a Fearless Scholar, A Fatal Heresy and One of the Rarest Books in the World
The fascinating tale of the sixteenth century genius, Michael Servetus, spiritual founder of Unitarianism, who was burned at the stake by John Calvin with what was assumed to be the last copy of his heretical work, Christianismi Restitutio, chained to his leg.  Except three copies of the book, which also contained a great medical discovery for which Servetus was never given credit, escaped the flames.
"I guarantee you won't read a more entertaining story this season—part biography, part history, part mystery and part plea for justice."
—Salon.com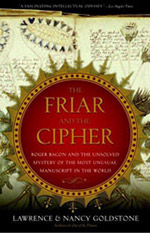 The Friar and the Cipher: Roger Bacon and the Unsolved Mystery of the Most Unusual Manuscript in the World
The most tantalizing work in the rare book library at Yale University is the Voynich Manuscript, an illustrated medieval treatise written entirely in a mysterious cipher.  For centuries, code specialists have tried and failed to break the cipher.  Not even today's supercomputers have been able to crack it, except for the last line, which says "To me, Roger Bacon," a reference to a thirteenth century Oxford friar who is known today as the father of experimental science.  Was Roger Bacon, who was famous for the use of codes to disguise his findings for fear of prosecution by the Church, the author of this perplexing document?  If so, what secrets does it hide?

"A fascinating intellectual odyssey."
—The Los Angeles Times Book Review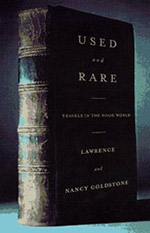 Used and Rare: Travels in the Book World
This was the first book Nancy and I wrote together.  It details our introduction into the world of used and antiquarian books—the odd bookstores we visited, the delightful booksellers we met, the out-of-print treasures we discovered.  When we started, we were young and knew nothing.  I'm not sure how far we've come since we wrote this but the journey has never been anything but wonderful.
"Most books about books are as stuffy and musty as a 400-year-old binding, but the Goldstones' prose is as sprightly and readable as the 'modern firsts' they began to add to their collections.  I read it in one sitting."
—Rocky Mountain News
"The authors' descriptions are evocative, their storytelling compassionate—and frequently hilarious."
—Kirkus Reviews
For those of you who are parents of young children, there's: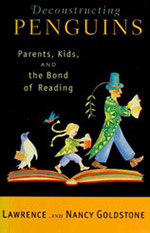 Deconstructing Penguins: Parents, Kids, and the Bond of Reading
For years, in an effort to instill a love of literature in our daughter and her friends, Nancy and I volunteered our time to run parent-child book groups for elementary school children at our local library.  It was hands-down the most rewarding experience of our life together.  In Deconstructing Penguins (the title refers to our very first group, an in-depth analysis of Mr. Popper's Penguins) we chronicled what we learned from these sessions.  The book recommends children's titles that we found to be indispensable and also offers detailed discussion plans including the real-life (and frequently hilarious) responses of both the kids and their parents.
"Not just the single best book on leading a book discussion group, Deconstructing Penguins is also about how to dig a tunnel into the heart of a book.  In my ideal world, every reading teacher would trash that boring classroom text and adopt this book as a curriculum bible."
—Jim Trelease, author of The Read-Aloud Handbook
And finally, I turned traitor and co-authored a book about a Yankee…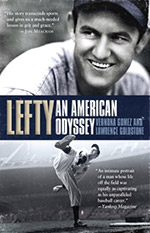 Lefty: An American Odyssey
A remarkable story that I wrote with Lefty's daughter Vernona.  Here's the jacket copy:
No one ever loved the game of baseball more than Lefty Gomez—and no one ever received so much in return from it. The product of a small-town California ranching family, he rode his powerful left arm and jocular personality to the Big Show as a mainstay of the formidable New York Yankee teams of the 1930s. He palled around with Babe Ruth, served as Joe DiMaggio's confidant, and consoled Lou Gehrig in the dugout the day the "Iron Horse" removed himself from the lineup. He started and won the first-ever All-Star Game, was the first pitcher to make the cover of Time magazine, and barnstormed Japan as part of Major League Baseball's grand ambassadorial tour in 1934. Away from the diamond, Lefty gracefully played the big city bon vivant, marrying Broadway star June O'Dea and hobnobbing with a who's who of celebrities. He even scored a private audience with the Pope.
Now, drawing on interviews with surviving friends and family members, as well as candid photos, documents, and videos—many never before been seen by the public—Vernona Gomez and her award-winning co-author Lawrence Goldstone vividly recreate the life and adventures of the irreverent southpaw fondly dubbed "Senor Goofy." Here are dramatic accounts of World Series exploits, colorful clubhouse anecdotes, and never-before-told stories featuring some of the game's—and the world's—biggest stars. As Lefty's travels took him around the world and into increasingly rarefied circles, his roster of acquaintances expanded to include such iconic figures as Jack Dempsey, Ernest Hemingway, Marilyn Monroe, George M. Cohan, Fidel Castro, James Michener, and Emperor Hirohito-all of whom appear in these pages.
"I'd rather be lucky than good," Lefty Gomez once quipped—one of many classic one-liners documented here. In the end, he was both. A star-studded romp through baseball's most glorious seasons and America's most and glamorous years, Lefty is at once a long-overdue reminder of a pitcher's greatness and a heartwarming celebration of a life well-lived.